CTI Launches Digital Badges for Certified Professional Co-Active Coaches
POSTED ON DECEMBER 15, 2020
CTI, the world's gold standard in coaching, has launched digital badges for Certified Professional Co-Active Coaches (CPCCs). Individuals who have completed this rigorous coach training program and received accredited certification now have access to a digital badge as a way to show their distinguished accomplishment in the coaching world. To learn more about what this globally recognized coaching program entails and to earn a digital badge for Certified Professional Co-Active Coaches, read on.
What is the badge for Certified Professional Co-Active Coaches?
Just 15 years ago, online badges were largely unheard of. However, as online training programs grew in popularity in the 2010s, digital badges became increasingly more popular as a way to demonstrate a person's achievements in a particular area of learning. Today, they are used regularly in showing someone's professional accomplishments online. In keeping with this trend, CTI has launched badges for Certified Professional Co-Active Coaches, and they are now available for those who have met the qualifications.
What is CPCC certification?
The individual who earns this badge has learned how to use their skills to coach anybody on any topic. Certified coaches from this program are able to help their client navigate any conflict, identify desired outcomes, and get the client to move towards achieving those outcomes until they are attained. Coaches are also trained to help the client recover from non-productive states triggered by fear or other defenses that result in stasis. Coaches who earn this badge understand how they impact others and have the ability to co-create conversations that deepen intimacy and trust. They have the tools to frame powerful questions that evoke conversations, leading to self-discovery and enhanced insight. In short, CPCCs use these tools to move the people they coach forward into bold action.
What are the benefits of getting this badge?
After learning how to create meaningful, insightful conversations that lead others to positive action, earners of this badge will qualify for accreditation by the International Coaching Federation (ICF). The badge communicates that you have gone through all the rigorous training needed to achieve certification. It is visible on the internet and can be seen instantly by those who are looking for your credentials and who are ready to make a choice based on them.
What is required to earn the badge?
The curriculum for becoming a CPCC is one of the first in the world to be accredited by the International Coaching Federation. The Co-Active Professional Coach Certification program is recognized as the most rigorous and respected coach training and certification in the industry. In order to earn this badge, you must:
Complete the entire Co-Active Coach Training and Certification program, which comes to 200 hours.

Undergo at least 24 hours of rigorous supervision from both peers and supervisors, in both individual and group contexts.

Complete the required reading and audio homework assignments and pass the program quizzes.

Accumulate a minimum of 100 hours of proven coaching experience while you are in the program. At the same time, you must maintain a client roster, keep a minimum of five clients, and log at least 100 paid coaching hours.

Accumulate 6-12 hours in which you are coached by a Certified Professional Co-Active Coach.

Pass an oral exam in order to demonstrate sufficiently that you have met the standards established by the Co-Active program and the International Coaching Federation.
How to claim your badge
If you are already a CPCC, claim your badge right away. Credly, the badge platform that CTI uses, has already sent all CPCC earners an email with instructions on how to claim their badges. Check your inbox for an email from admin@credly.com. If you are a CPCC and have not received an email from Credly, visit our FAQs for information on how to get your CPCC digital badge without an emailed invitation.
If you are not yet a CPCC, consider the credibility and confidence that comes with receiving the training and certification from the Co-Active Professional Coach Certification program. Once your training and certification is completed, promote your credential using our newly launched digital badges to demonstrate your skills and raise awareness among potential clients.
How to Share your CPCC badge
Once you have accepted your badge, you can broadcast the badge directly from Credly to your social networks.
Step 1: Click on the blue SHARE button
Step 2: Click an icon to connect your social media account
Step 3: Click connect
Step 4: Share your credential
You can also email the badge, download the badge image, download the code to embed your badge on a website, and copy the badge landing page URL.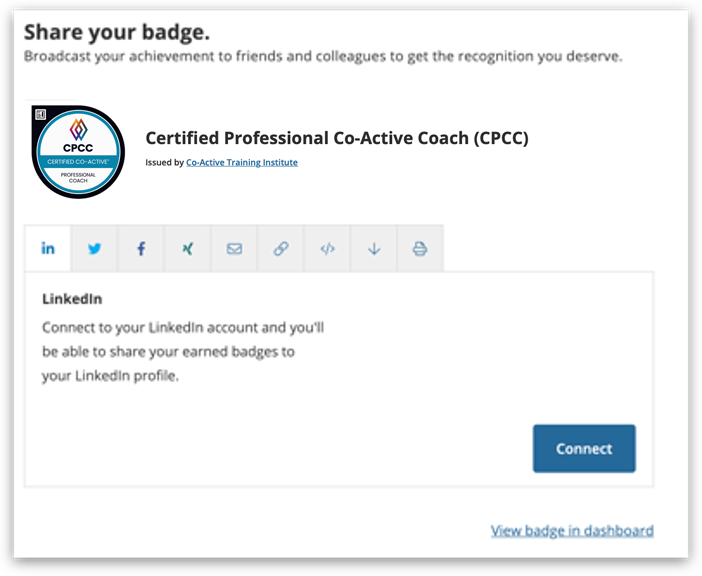 How to download your certificate
After claiming your badge, you will also be able to download your certificate. Follow these steps to download your certificate.
Step 1: Click on the blue SHARE button
Step 2: To the very right of all the social media, email and embed buttons, click the printer icon.
Step 3: Click the blue Download PDF button.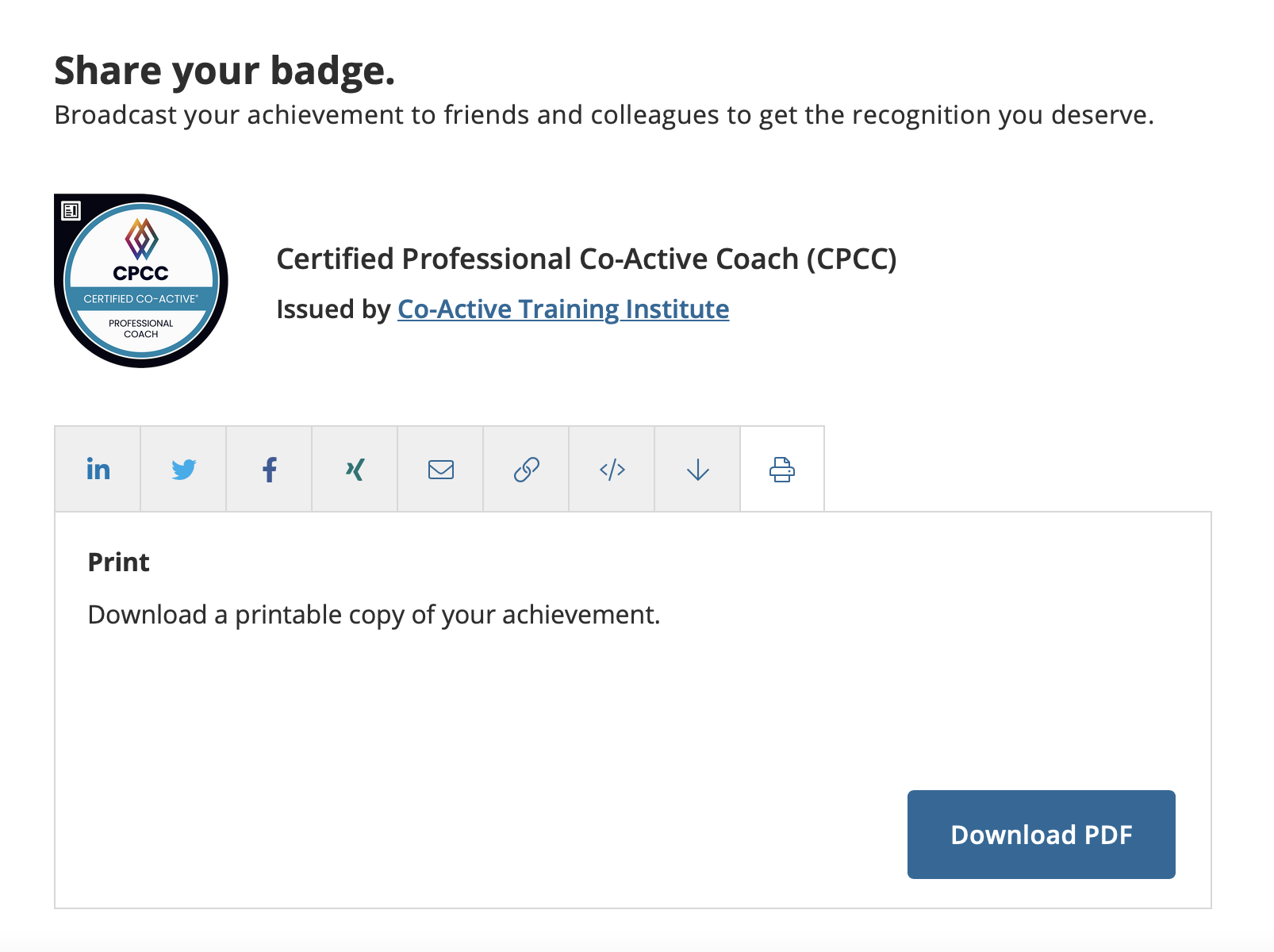 How to access your transcript
You can access a transcript including the ACE credit recommendations by following the instructions in this Credly support tutorial."
To learn more about CTI and how you can become a CPCC, visit our website.
Connect with us and share your CPCC badge across our four official social media channels (Facebook, LinkedIn, Instagram, Twitter @coactiveleaders). We'd love to celebrate you there!