Legacy, Strategy, Equity: An Infinite Loop of Responsibility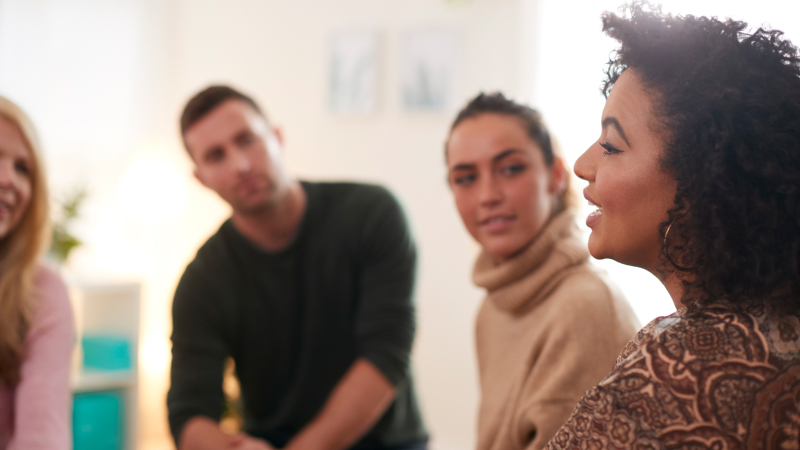 Co-Active defines leaders as those who take responsibility for their world. In this way, responsibility has two parts: the ability to create your world and the ability to be shaped and created by your world.
Our level of responsibility is commensurate with our awareness of these two parts. We hold that the practice of leadership is to build the capacity to live into this paradox.
In our previous blog, we shared what we discovered as we leaned into our leadership, and this notion of responsibility, during the beginning of our tenure and through the pandemic:
"One of the things that we got clear on through this journey... is about landing legacy, strategy, and equity as the core aspects of how CTI is stewarded and created. We also assert that this is a frame that all leaders should be applying to systems evolution, whether that is the system of self or systems they are a part of."
Here, we share a high-level explanation of how we hold legacy, strategy, and equity — and the dynamic interplay between them. Much of what we are sharing we are learning about simultaneously. We are taking the stand of going before we know it all, and we offer this as a collective exploration around this important context.
Legacy: Why It's Not Just History
Legacy is why we do things, not what we do. It's the current expression of original core principles — in everyone and everything.
We often hear legacy talked about as history. While this is a significant aspect, it's not all of it. When confronted with the fact that some day we will leave the organization we are leading — or that someday we will leave this experience of life — it puts us in touch with what is profoundly important. This helps us orient to a sense of purpose and service that doesn't just apply to our time as co-CEOs.
Rather, it has us sense into our contribution as stewards of this business, our offering to a long line of leaders who have and will bring many skills, experiences, and medicine to this organization, as well as a philosophy that endures.
In most company succession processes, the focus is on handing off the business to the incoming CEO (in rare cases, co-leaders). Of course, this includes financials, business and key product strategies, culture considerations, partnerships, key relationships, and more. One of the greatest gifts the co-founders of CTI offered during their succession process was recognizing that they were handing down both the business and the legacy of CTI and Co-Active.
Through storytelling, they worked with their teachers, mentors, and guides to identify the core aspects of what was alive and involved in creating them. As a result of their including legacy in equal proportion to the business, our tenure has felt more whole and has given us a deep well of resources to tap into when navigating our roles. It has helped us not lose who we are in the face of game-changing events and, in fact, has helped us become more of who we are in this moment.
When we are truly living legacy, we feel like we are a part of something larger than our own story: we are part of a growing constellation of people serving the work of others who have come before us and those who will follow us — all sharing a love for the relationship to their origin story.
We hold that all organizations have origin stories; they speak to why the organization exists, what it is here to create and serve, and the values it offers and nurtures. Origin stories are both part of a company's history and alive in the present moment. Bringing the past and present together to create the future is an act of honoring wholeness.
At its best, legacy reminds and grounds us in who we are and why we exist. In the ever-fluctuating and ever-evolving context of the current moment, it can be easy to feel unmoored. Legacy helps us understand how we want to show up in the present in order to meet the circumstances of the world as they evolve. We are not reliving the past; we are living a current expression of the original principles.
Legacy is revealed through story and relationship, by being in the practice of conversation with ourselves and each other. It reflects on where we came from, and how that is relevant in this moment. It is not linear and, in some ways, defies the physics of time. When living into legacy, you can pull the past into the present moment and create a future all at once, enabling evolution and transformation.
We believe we should be constantly assessing which traits to bring to the fore and which to the background within the culture of an organization. This is done by tracking their passing through an infinite loop of connectivity between the origin story and the present moment.
Strategy: Vision and Intention Married with Action and Agility
Strategy is an ongoing conversation that allows an entity to shape the world and be shaped by the world.
The traditional understanding of strategy is that it is a roadmap for how we achieve goals. It includes getting stakeholder input and organizing models and frameworks that lead to specific outcomes. There is reasoning and logic that validates the path strategy forges.
There are also aspects to strategy that are more non-traditional. The conversation itself is an invocation that is sourcing a future; it is an act of collective consciousness and the process of alignment. It is an expression of relationship (between all the domains of a business and the business's relationship to the larger system it is serving).
Strategy is a coherent articulation of the energetic field, a prayer for how we want the future to be shaped. It is how we source the journey, and it is the place we return to, to be re-sourced when we get lost or need guidance for how to stay on the path. It is an ongoing conversation around how we're adapting to, responding to, and being created by our world. It creates a path towards our vision.
The strategy conversation is one between all leaders within an organization, and between the organization and the world. It is what we seek to create in service of purpose and legacy — and how the world creates and informs the organization's work in response to emergent needs. It is a way of expressing and reaffirming legacy.
Having the skills to be in a Co-Active conversation around strategy, you find value in your co-leaders' offerings. You are willing to engage in disagreements, look inward at yourself and the organization, and look outside of yourself and the organization. We are devoted to continuing to develop these skills as we deepen our commitment to this way of holding strategy.
Understanding your legacy should play a role in fine-tuning your strategy, because there are parts of the origin story that will fit within the current strategy and parts you need to put to one side for now. It will also shape not only what investments your organization makes but how you make them and to what end. In our experience, this makes executing strategy more joyful and unique.
Real strategic thinking isn't isolated — it's a process of co-creation with other people to understand the broader reality. Conducted well, it sources a point of reference for where we are going and how we are going to get there. It takes the essence of legacy and brings it into conscious reality.
Engaging in strategy this way calls leaders into leveraging two distinct skill sets simultaneously. The first is technical competencies — being able to determine goals, implement execution plans, and rely on common systems transformation processes. The second is intuitive competencies — being able to operate from instincts, trusting what they are sensing beyond what is being presented, and feeling into the arc and timing of the unfolding nature of the business and the market.
We believe that if we get accustomed to holding strategy this way, we will be able to move more powerfully together as an organization, towards our vision, through shifting priorities and unexpected external events.
Equity: Meeting Complexities to Serve the Highest Good for All
Equity is the stand that organizations and individuals must build the capacity for complexity, nuance, and diversity while designing a future that includes more of everything for everyone.
We choose to use the term "highest good for all" in our equity conversations because it aligns with Co-Active's work and philosophy. Bringing equity into the heart of a leadership model means creating a more sustainable and inclusive way of engaging in life, work, and the world. We can meet, and account for, the growing complexities to serve the highest good for all. In doing so, we are accounting for four realities: interpersonal, intrapersonal, systemic, and institutional. When we hold equity as one of our core pillars, we are creating from it.
Organizations that hold equity in equal proportion to strategy and legacy understands that they don't just exist for themselves and their employees, but they stand within a larger ecosystem that they both create and are created by. An organization that holds equity as core to its creative framework is interested in increasing the complexity of the narrative, to meet the complexity of the world it wants to engage with. It understands that intentions are not enough and that impact and accountability matter.
Standing equity next to strategy and legacy means that as we create our world, we are thinking about the highest good for all. If legacy looks back to the seven generations that came before us, equity asks us to look to the seven generations ahead of us and calls us to create a fairer and more just world for everyone.
Legacy and equity guide how we engage in systems change. Legacy serves us in sustaining who we are and insists we lean into the foundation of core creative principles. Equity reminds us to make choices in all four lived realities so that the highest good for all can be served.
So, in the broadest sense, equity creates life-affirming experiences for people and planet — experiences that are sustainable, whole, innovative, and traditional.
Equity isn't just about relationships with people (interpersonal and intrapersonal); it's people's relationships to the systems and institutions they are a part of. To create lasting change, we need to pay attention to the system of self and the system itself, all at once. We need to recognize our relationship with the systemic and institutional realities we are a part of.
For organizations and their leaders to hold responsibility effectively, they need to both examine their business and their world, through the lens of all four realities, and understand how they are being shaped by them.
Equity specifically confronts a certain collection of origin stories that have been in place for hundreds of years, and it starts to insist that there is an origin story behind these origin stories. It starts to insist that legacy has dark and light, and we need to always move toward the light; that is our job as leaders. When we move into this view, we shift from symptom to cause.
Historically, many organizations have resisted the conversation around equity, inclusion, and diversity. Doing little or nothing, or simply paying lip service, is just not acceptable.
We encourage leaders to consider equity at the highest level. It is every leader's responsibility to say to the world: "we want to create a more equitable world that is more sustainable, creating more justice, and more alive with wholeness and responsibility."
The Infinite Loop of Responsibility
We're so excited to explore how these pillars are inextricably intertwined and how each informs the other. But perhaps most of all, we're excited to make this experiment a conversation.
We want to offer an invitation for everyone — for CTI veterans, for those who are brand new to the world of Co-Active philosophy — to get involved. In the comments, we invite you to respond with your thoughts on questions like:
How do our definitions of legacy, strategy, and equity resonate with your own definitions?
What else do you believe that leaders need to pay attention to when building and leading systems?
What specific areas or topics would you like us to dwell on in our future writings?
Are there gaps we might have missed?
We look forward to hearing from you. Thanks to everyone for joining us on this journey!